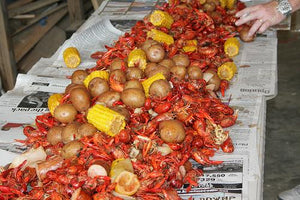 Complete Crawfish Boil Makings
Louisiana Crawfish Co.
Regular price $ 179.99 Sale
Includes Live Crawfish (Select Grade - 12/17 count/lb ), Seafood Boil, and Creole Seasoning - Free Shipping
Our Farm Caught, Graded Crawfish Are Placed Into Holding Tanks Of Clean, Highly Oxygenated Water For 12-14 Hours Offering the Cleanest Crawfish on the Market
The average amount to order per person is  is approximately 2-3 pounds, depending on what other foods are served (corn, potatoes, sausage, etc.)
What looks, tastes, and smells like seafood, but doesn't come from the sea? It's crawfish, a freshwater shellfish that is considered a Louisiana delicacy.
STEP 1: Wash crawfish thoroughly with running water, removing any that are crushed.

STEP 2: Fill a large pot with enough water to cover crawfish. Add powdered seasoning mix to the water. One lb. of powdered crawfish boil will cook approximately 15-20 lbs of crawfish. The powdered premixed seasoning contains salt, lemon, onion, garlic, and many other spices needed for real "Cajun flavor". Bring water to a rolling boil.

STEP 3: Place crawfish in water, cover, return water to a boil, & boil approx. 1- 2 minutes. Turn off fire & let crawfish soak for 15-20 minutes depending on the amount of spices desired.

STEP 4: Prepare vegetables while crawfish are soaking. The standard favorites are corn-on-the-cob and potatoes. However we suggest you also try mushrooms, carrots, whole onions, whole garlic, and any others of your choice. Boil the vegetables in the water after removing the crawfish, keeping in mind they will not take long to cook and they soak up the spices quickly. Start the potatoes first and add the others right before the potatoes are almost fork tender.

STEP 5: Remove crawfish from water and place in an ice chest. The box the crawfish are shipped in works great for this purpose! Place a 2" layer of crawfish then sprinkle an even layer of Creole Seasoning & a layer of salt (if desired). Continue layering crawfish and seasoning until all crawfish are in the chest.

STEP 6: Place the lid tightly on the chest and let the crawfish steam approximately 15 minutes. Meanwhile, boil the vegetables.

STEP 7: Uncover and enjoy Louisiana's finest delicacy!!!
Daniel Asher, Co-Owner of River and Woods