We deliver the sourcing. You deliver the feast!
To-Table is the new destination for in-home chefs and passionate home cooks frustrated by the time-consuming and often impossible job of sourcing the very best ingredients. Offering direct availability of pristine products to consumers throughout the country, To-Table puts sought-after and difficult to find foods - produced by the best farms, fisheries, ranches and artisans and vetted by professional chefs for quality and sustainability - right in the hands of its members.
Testimonials
It was the best we've ever eaten! Delicious!!! The food was the bomb and everyone loved it!

Don (Nantucket)
A quick note to let you know we LOVED our rib roast, from To Table, for our Christmas dinner.

Kirk (Sun Valley)
Thank you. We have all been so happy with my past orders with To-Table.

Kathy (Las Vegas)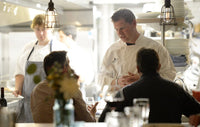 Alex Seidel (Fruition and Mercantile), a James Beard finalist for best chef Southwest, encourages home cooks to employ the best ingredients, measured in part by quality, sustainability, and variety, to best enjoy the art , the result and the environmental benefits.
Other Chefs working with To-Table include Daniel Asher (The River and Wood), Hugo Matheson (The Kitchen), Frank Bonanno (Mizuna, Bones, Osteria Marco, French 75 and more), Paul Reilly (Beast +Bottle and Coperta), Kyle Mendenhall (Arcana) and several others.