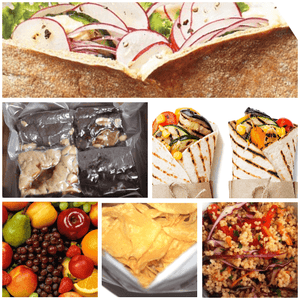 Angler's West Gourmet Lunches
The Lodges Larder
Regular price $ 0.00 Sale
The Lodge's Larder is a program of To-Table
Menu 

A description of the lunches are below. Packaged in sturdy, waterproof environmentally sound container. Find Our Extraordinary Lunches Here
Sides 

A 4 oz. side salad, premium potato chips, Snacks, Fruit, salted caramel cookie, citrus scented hand wipes, napkin and spork. 
Sandwiches/Wraps
Fall for It: Seasonal fall apple, honey ham and brie cheese on croissant
High Country BLT: Bacon, tomato, Romaine hearts and swiss cheese with roasted garlic and roasted tomato aioli, ciabatta.
Deli Belli Wrap: masala curried chicken salad, croissant, romaine
Catch & Release: smoked trout, pretzel roll, capers, sweet pepper and fresh berry  cream cheese
The Pickup Caprese: Fresh Mozzarella, basil pesto, oven dried tomato, focaccia, balsamic reduction (Vegetarian)
Wild Game Club: smoked turkey, duck prosciutto club, avocado herb ranch, romaine, roasted tomato, sourdough
Western Deli: bison and beef pastrami, pretzel roll, stone ground mustard
The Mountain Italian: Ham, salami, provolone, giardiniera, ciabatta,  garlic mayo
Salads

Mixed Greens with protein and dressing du jour 
Thai Chicken Salad with Peanut dressing
Replacements/Substitutes:
Vegan 
The Vegan Veggie Wrap: Seasonal lightly grilled vegetables with balsamic aioli
Gluten Free 
Brioche Bun - 
Kids 
BB&J with vegetables and other snacks, fruit, cheese and a cookie.
Daniel Asher, Executive chef at The Lodges' Larder