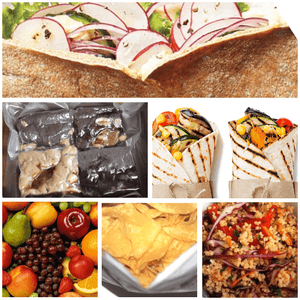 Big Sky Anglers
The Lodges Larder
Regular price $ 0.00 Sale
The Lodge's Larder is a program of To-Table
For special orders, please call 720-330-0441 or email info@to-table.com
Menu 

A description of the lunches are below. Packaged in sturdy, waterproof environmentally sound container.
Sides 

A 6 oz. side salad, large premium potato chip, salted caramel cookie, hand fruit, 2 snacks, citrus scented hand wipes
Sandwiches/Wraps
Delhi Belly Wrap: masala curried chicken salad, whole wheat flatbread, romaine
The Pickup Caprese: burrata, Genovese basil, oven dried tomato, focaccia, balsamic aioli (Vegetarian)
Wild Game Club: smoked turkey, duck prosciutto club, avocado herb ranch, butter lettuce, roasted tomato, sourdough
Western Deli: bison pastrami, marble rye, stone ground mustard
The Lodge Muffaletta: mortadella, provolone, giardiniera, ciabatta, olive tapenade, garlic mayo
Catch & Release: smoked trout, everything bagel, capers, pickled red onion, rocket, tomato, chive cream cheese
Salads
Mixed Greens and Curried Chicken. 
Thai Chicken Salad with Peanut dressing
Replacements/Substitutes:
Vegan 
The Vegan Veggie Wrap: Seasonal lightly grilled vegetables with balsamic aioli
Gluten Free 
Brioche Bun - please send email to info@to-table.com with Gluten Free requirement. Please include fly shop, outfitter or guide name along with which sandwich(es) and the quantity of those sandwiches with which the GL brioche buns should be used.
Kids 
Almond butter & strawberry jam wrap
Daniel Asher, Executive chef at The Lodges' Larder