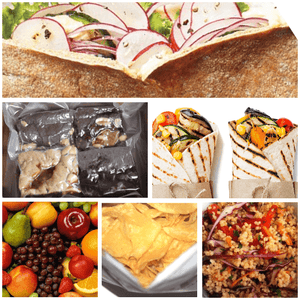 Deep Creek Outdoors - Chico Hot Springs
The Lodges Larder
Regular price $ 0.00 Sale
The Lodge's Larder is a program of To-Table
Menu 

A description of the lunches are below. Packaged in sturdy, waterproof environmentally sound container.
Sides 

A 4 oz. side salad, large premium potato chips, salted caramel cookie, hand fruit,  snack, citrus scented hand wipes. Napkins and spork included.
Sandwiches/Wraps
Fall for It: Seasonal fall apple, honey ham and brie cheese on croissant
High Country BLT: Bacon, tomato, Romaine hearts and swiss cheese with roasted garlic and roasted tomato aioli, ciabatta.
Deli Belli Wrap: masala curried chicken salad, croissant, romaine
Catch & Release: smoked trout, pretzel roll, capers, sweet pepper and fresh berry  cream cheese
The Pickup Caprese: burrata, oven dried tomato, focaccia, basil aioli (Vegetarian)
Wild Game Club: smoked turkey, duck prosciutto club, avocado herb ranch, romaine, roasted tomato, ciabatta
Western Deli: bison and beef pastrami, pretzel roll, roasted garlic mustard aioli
The Mountain Italian: Ham, turkey, salami, provolone, giardiniera, ciabatta,  garlic mayo
The No Meat Montanan Wrap: Seasonal lightly grilled vegetables, hummus spread, alfalfa sprouts with blood orange balsamic drizzle.

Salads
Mixed Greens with protein and dressing du jour (no side salad or fruit)
Thai Chicken Salad with Peanut dressing (no side salad or fruit)
Replacements/Substitutes:
Gluten Free 
Brioche Bun - no cookie
Kids 
Almond butter & strawberry jam wrap with chips and cookie
Wraps
 Sandwiches can be made with wraps - list sandwiches you want with wrap rather than bread.

Daniel Asher, Executive chef at The Lodges' Larder