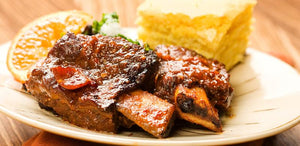 Dinner Party Menus - A Well-Seasoned Kitchen Dinner Party Menu From Lee Clayton Roper
Various
Regular price $ 229.75 Sale
Lee Clayton Roper has been a friend and inspiration for four decades. Successful in the cable industry, she "retired" and followed her real passion - cooking. She learned an easy and graceful process in the kitchen from her mother. Her creations are not only superb, they also allow the chef the time and poise to be an inviting and hospitable host.
In fact, Lee held her first dinner party at the age of 16. Throughout the years, Lee has provided recipes, menu advice and cooking tips to friends seeking uncomplicated and delicious ideas for home entertaining. In November of 2009, Lee published A Well-Seasoned Kitchen®, the award winning cookbook she co-authored with her mother. In 2015, she published Fresh Tastes, the next installment in the Seasoned Kitchen collection. Both books have received numerous rave reviews and praise and have been featured in both local and national press.
Lee's Menu for To-Table enables us to put on a spectacular Dinner Party and enjoy both the meal and the guests
Lee Clayton Roper's Dinner Menu and Recipes
Appetizer- Croustades aux Champignon 
These can be made ahead, in whole or in part, and baked just before the guests arrive.
Find the recipe here on A Well-Seasoned Kitchen's website.
From To-Table, we source the wild foraged mushrooms that take this to the next level of flavor. We ship one pound. This should leave you with a quarter to a half pound of extra mushrooms. Could an incredible omelet be in the offing?
Main course
Spicy Short Ribs (not too spicy, just full of flavor)
This full flavored, very easy recipe is packed with spicy, but not hot, accents. Lee created an uncomplicated preparation that delivers a meal that tastes like it took forever to cook. Again, this can be made ahead, in whole or in part.
A Well-Seasoned Kitchen's website hosts this wonderful recipe and can be found here.
From To-Table, we source the all natural, "no hormone or antibiotics" Colorado Beef Short Ribs. The 8 ribs are 6 inches long and 3 inches thick but work well in the recipe. They average a little over a pound per rib.
Cheese Grits Souffle (grits and cheese - a natural - but this one is also beautiful)
Cheese grits is everyone's favorite. but making the dish, so simply, into a souffle is astounding.  Find the recipe here from Lee's A Well-Seasoned Kitchen Website.
From To-Table, we source, from the heart of the Low Country, the renowned stone ground grits that turn any kind of grits or polenta recipe into a gourmet dish. We ship you two 2 pound bags of grits to properly stock your pantry.
Spinach Salad with Lemon-Pine Nut Dressing
This tasty, simple, and healthy salad uses no special ingredients from To-Table and can be found here on A Well-Seasoned Kitchen's website.
Dessert - Sticky Toffee Pudding 
What would your dinner party be, other than incomplete, if there was no dessert. I love the simplicity of this version of my favorite British pudding. No hard to find ingredients so go here on a Well-Seasoned Kitchen's website to make the final diamond in your bejeweled dinner party.
Shipping is Included
Recipes from Lee Clayton Roper and A Well-Seasoned Kitchen