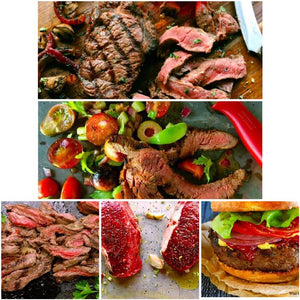 Grilling Package: Grasslands Bison
Wild Idea Buffalo
Regular price $ 439.00 Sale
15.25 lbs. (30 total servings) with 10.25 lbs of 18 steaks (20 servings) -$14.00 per serving
Wild Idea Buffalo is uniquely high quality bison. Sustainably Raised only on grass in South Dakota's grasslands, the additional step of field harvesting the animals eliminates the secretion of the hormones that make other bison products tough. Tender and delicious:
New York steaks  - 4 ea. for 2.5 lbs

Bone-in rib eye steaks  - 2 ea. for 2 lbs.

Skirt steak - 4 ea. for 4 lbs.

Flank steak  - 2 ea. for 1.75 lbs.

Ground Bison - 5 lbs.
_________________________________________________________________
Special Offer - Free Gift with Purchase
BATTERY BARBECUE GIFT BOX
Season you grilling meats with our Blackjack Barbecue Dry Rub. Mop your grilled meats with award-winning Blackjack Barbecue Sauces while on the grill, and serve with Peach Hot Sauce on the table for those who want to put a sweet and hot kick in their meal. Gift Sent for free with first purchase of a grilling Meat package. (Not Available with special offers and discounts.)
Shipping is included!
Resources:
Alex Seidel, head chef at Fruition & Mercantile