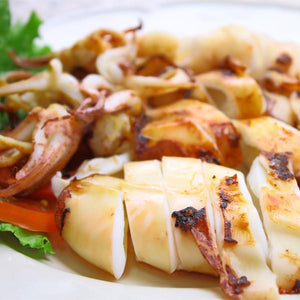 Tenderized Sepia (AKA Cuttlefish) starting at 2 pounds (5-12 Servings)
Gullo Seafood
Regular price $ 39.00 Sale
Sepia or cuttlefish is a Spanish delicacy similar to calamari, but they are meatier, with a rich fresh flavor and almost no fishiness. As with the octopus available at To-Table, the key to great sepia is the tenderizing. Tenderization is a method using a tumbler, sea salt and cold water. It's a natural process where no any additives or chemicals are ever used. When the sepia has finished tenderization you will be left with a product that is perfectly round, moist and incredibly tender. 
The classic way to cook sepia (sometimes called choco) is to score the surface in a crisscross and throw it on a hot griddle with plenty of olive oil. The fresh white cuttlefish will start to sizzle and brown within a few minutes. After about ten minutes, the sepia will be golden on the edges and ready to eat. Heat blended parsley, garlic and oil and pour over the fish with some Caviaroli.
Daniel Asher is excited by this food. "The cuttlefish is like the greatest varietal of squid anyone in the US has ever seen. Quick sear it in a hot cast iron pan and finish with some warm picholine olives, a drizzle of arbequina oil and some roasted shishito peppers for a show-stopping small plate served on top of green lentils - or just dredge in seasoned flour and fry until crispy" Daniel knows food!
 See our recipes Blog for ideas about Sepia/cuttlefish dishes.
Daniel Asher, head chef at Root Down & Linger