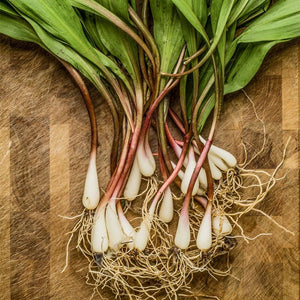 Ramps
Earthy Delights
Regular price $ 125.00 Sale
Foodies seem to go crazy over ramps in the spring. They are known as a wild leek, but are also used as garlic, onion, and a green. their flavor and aroma are of this combination. They are, simply, to the cook, the clear sign of spring. ramps are a spring treat that have a quick season and are much better tasting than cultivated leeks, scallions or chives.
"What makes ramps ramps is not their flavor, you see, but their cultural value. David Kamp, the author of The Food Snob's Dictionary, offers this explanation to Time: "The ramp is not a salad green, but it is a green vegetable, and it is the first legitimately green thing that appears from the ground in April, a month that, in terms of farm yield, is otherwise an extension of winter. For food snobs, therefore, ramps are overcelebrated and overly scrutinized, like the first ballgame played in April, even with 161 more games ahead." Josh Ozersky - Time - April 13, 2010
If you read or use Keith McNally's Balthazar cookbook, the use of ramps is rampant! Also, see the ideas of the Huffington Post for ramp recipes. (I made the ramp pesto pasta from here - everyone was awed - best pesto I have ever made).
 We made a stunning pesto with them as one idea.
Frank Bonanno,  Bonanno Concepts