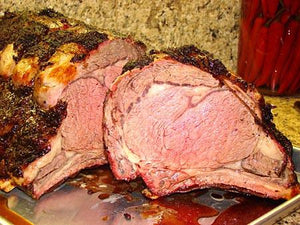 Standing Prime Rib Roasts
Tonali's Meats
Regular price $ 175.00 Sale
20 Day Aged Choice (or higher) Standing Prime Rib Roast.  Premium, All Natural Beef wet aged for 20 days. Why do customers rave about this beef?
King Natural Beef is superior fed beef raised on family farms with the care and flavorful results that are inherent in well run family operations. Raised without hormones or steroids and fed a fully vegetarian diet devoid of any animal by-products.
Wet aging for 20 days delivers the perfect tenderness and flavor enhancement.
Graded at least choice but often prime.
All roasts are cut and tied delivering the the superior bone-in taste while roasting combined with the ease of carving without bones.
Hugo Matheson , Co-Owner at The Kitchen