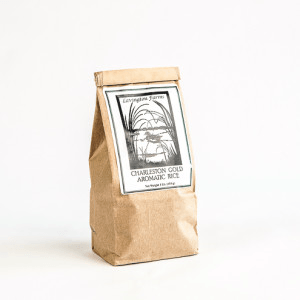 Delicious and Aromatic Carolina Gold Rice
Food for the Southern Soul
Regular price $ 17.95 Sale
Carolina Gold Aromatic. At Food for the Southern Soul, Jimmy Hagood is keeping the southern rice tradition alive. He plants and harvests Charleston Gold Aromatic Rice, often by hand, at his family farm in the ACE Basin of the South Carolina Lowcountry. Charleston Gold is the short-grain, non-GMO aromatic offspring of the much heralded heirloom Carolina Gold rice variety. Characterized by its golden hull and nutty flavor, Lavington Farms Charleston Gold Aromatic Rice represents the perfect marriage of the quintessential southern staple and delectable Indian basmati rice. After milling, Lavington Farms Charleston Gold Aromatic Rice is packaged in one pound bags whose original artwork label, created by third-generation silhouette artist Clay Rice, depicts a wood duck floating among a rice field. Rice arrived in South Carolina in 1685 and has been the center of the family dinner table ever since.
Carolina Gold was a non-aromatic rice and a staple for the south. The south was the largest exporter of rice in the world in the 17th century. With tastes moving to more aromatic rices, the aromatic version was created from the short stature gold hulled rice with the traditional plush mouth feel of Carolina Gold, yet with the fragrance of an East Indian cool weather rice. resulting in a splendid and productive rice that has been embraced by Lowcountry cooks requiring a grain that can hold up to heavily spiced dishes.
Please see our recipes blog for cooking instructions as well as recipe ideas.
Jimmy Hagood, Founder and Chef at Food for the Southern Soul