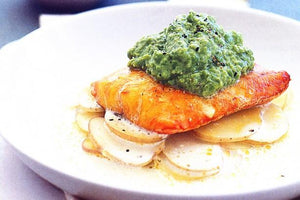 Smoked Cod from the Northeast
Buxton's - Day Boat Fresh
Regular price $ 95.00 Sale
Stonington, Maine, home of Buxton Day Boat Fresh, is situated on Deer Isle Island and is the # 1 lobster port in the US.  Sue Buxton, whose husband is a licensed sea captain and a master wooden boat builder, started the company 4 years ago after 13 years of managing another similar company on the island, and is dedicated to sustainability in the fishing practices of her fishermen and the freshness and quality of her products. She explained that all her boats are day boats. "There are simply no trip boats here," she said. "We are on a bridged island. Fishermen go out daily; I pick out the premium of what I need from whatever they've caught that day and ship it out by Fed Ex to arrive by Priority overnight." This has made her operation very popular with chefs around the country.
Smoked Cod. Cod is the best-known of a large group of predatory fish that are enjoyed for their culinary virtues. Others include haddock, ling, pollock and the freshwater burbot or "eelpout" that's familiar to Midwestern anglers. All have a firm, lean, mild-tasting white flesh that's well suited to curing and smoking. 
See a description in our Recipes Blog.
Special Ordering and Shipping Instructions: Orders placed by Thursday will ship early the following week. Please indicate preferred delivery date in order instructions.
Kyle Mendenhall