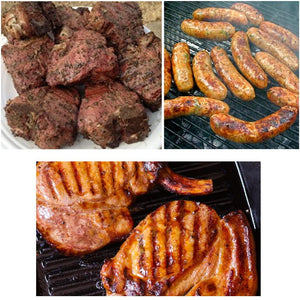 Grilling Package: Chop & Brats
Various Producers
Regular price $ 429.00 Sale
26 lbs. (80 Brats-40 servings) & 7 lbs. Chops (14 servings) $7.90 per serving
The artisan crafted sausages of Smoking Goose and bison and elk sausages from Colorado are coupled with the very best pasture-raised enormous pork and  spring lamb chops - also from Colorado. The package includes (all sausages include at least 5% pork):
Colorado Pasture Raised Heritage Pork Chops 4 chops total 3.6 lbs! 

Colorado Porterhouse lamb loin chops 8 ea. 1.5" chops total 4 pounds

Elk Spicy Italian Sausage 12 ea. for 3 lbs.

Buffalo Sausage combo 24 ea. for 6 lbs. 

Smoked elk/cheese bratwurst 8 ea. at 2 lbs.

Lightly spiced smoked elk brats 8 ea. at 2 lbs.

Smoking Goose smoked fennel sausage 12 ea. for 2.6 lbs

Smoking Goose smoked chorizo sausage 8 ea. for 1.75 lbs.

Smoking Goose duck, pear, & port sausage 8 ea for 1.75 lbs
_________________________________________________________________
Special Offer - Free Gift with Purchase
BATTERY BARBECUE GIFT BOX
Season you grilling meats with our Blackjack Barbecue Dry Rub. Mop your grilled meats with award-winning Blackjack Barbecue Sauces while on the grill, and serve with Peach Hot Sauce on the table for those who want to put a sweet and hot kick in their meal. Gift Sent for free with first purchase of a grilling Meat package. (Not Available with special offers and discounts.)
Shipping is included!
Resources:
Alex Seidel, head chef at Fruition & Mercantile