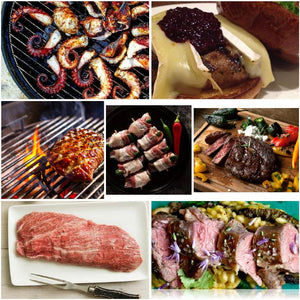 Grilling Package: The Gourmet Griller
Various Producers
Regular price $ 598.00 Sale
21 lbs. (44 servings) with 14 lbs of "steak" (28 servings) - $13.60 per serving
This package is for the home chef who wants to have options in the freezer for really special and unique grilling delicacies. In grilling, it isn't necessarily the skill that creates a gourmet offering, but the ingredient. The package includes (the quail poppers serve 18-20 for appetizers):
Wild Boar tenderloin - 1 tenderloin for 2 lbs.

Ground Wild Boar  - 3 lbs.

Quail Poppers (Quail, jalapenos, bacon ready to grill) - 48 ea. for 4.5 lbs.

100 % Pure Wagyu top sirloin steaks - 4 ea. for 2 lbs.

100 % Pure Wagyu flat iron steak 1 ea. for 1.5 lbs.

Duck Breasts - 4 ea. for 3.4 lbs!

Tenderized Spanish Octopus - 1 ea. at 5 lbs.
_________________________________________________________________
Special Offer - Free Gift with Purchase
BATTERY BARBECUE GIFT BOX
Season you grilling meats with our Blackjack Barbecue Dry Rub. Mop your grilled meats with award-winning Blackjack Barbecue Sauces while on the grill, and serve with Peach Hot Sauce on the table for those who want to put a sweet and hot kick in their meal. Gift Sent for free with first purchase of a grilling Meat package. (Not Available with special offers and discounts.)
Shipping is included!
Resources:
Alex Seidel, head chef at Fruition & Mercantile