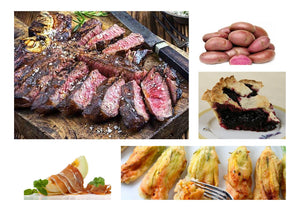 Late Summer Bistecca Menu - Friends To Table
Various
Regular price $ 429.90 $ 295.00 Sale
Hot indian summer days, fresh herbs, and memories of summer's activities beg for a relaxed dinner with friends and family—preferably outside before fall's leaves and nip in the air force you inside. The Italians own tomato sauces and pasta, but their grilled streaks with the best herbs are their hidden strength. Try this menu out with your good pals and some great wine.
Cocktails with Jamon Iberico and Rocky Ford Cantaloupe
To-Table need not supply the cantaloupe as it is as fresh as possible in Colorado now and begs for an accompaniment of Iberico Ham (which we have in reasonable pre-sliced serving sizes!). No cooking - just fresh and cool.
Bistecca Alla Fiorentino.
An all natural porterhouse grilled over very hot coals and served rare. Purists use only sale and pepper, some use a bit of olive oil brushed on with a rosemary sprig, and some serve with a lemon wedge. The key is hot coals or gas grill and a rare temperature. The tenderness is unforgettable. Let sit after cooking for 10-15 minutes and slice the 2.5 inches thick meat on both sides of the bone.
Stuffed Fried Squash Blossoms
Sounds hard but it isn't. Using a plastic bag with a cut corner to inject the goat cheese and gruyere mixture into the flower is much easier than one thinks. Lightly battering the flower and frying takes very little time. It will be the best and favorite item on the plate.
Amorosa Fingerling Potatoes
Take these fingerlings, boil them slightly for 3 or 4 minutes and then grill them until they have a slight char. Cut them up and then mix with grated Parmesan, chopped fresh rosemary/chives/parsley, salt and pepper, garlic powder, olive oil and little bit of vinegar. Mix it all up and serve at room temperature
Huckleberry Pie
With pre-made pie crusts, making pies requires less skill and time. If you make your own crust, so much the better, but use fresh wild huckleberries creates a unique and fabulous fresh pie.
Price Comparison
A package assembled piecemeal through internet browsing for Porterhouse steak: $145.00 (Omaha Steaks 48 oz plus $22 shipping); Jamon Iberico : $55.00 (La Tienda plus $15.00 Shipping); Squash Blossoms: $30.00 (Farmers Market plus $15.00 shipping); Amarosa Fingerlings : 31.90 (Internet Browsing plus $20.00 Shipping); and Wild Hucklerries: $86.00 (Internet browsing - shipping included) would cost $347.90 plus shipping of $82.00 for a total of $429.90 vs To-Table price of $295.00 shipping included.
Note: Price includes shipping.

Menu Selected by Charles Duke - A Passionate Home Cook
Save
Save
Save